1 Campbell Place
Camden, NJ 08103-1701
PRODUCTS & BRANDS details >>
CATEGORIES & HEADINGSdetails >>
As a foodservice professional, you want to offer the delicious taste and broad spectrum of flavors that your consumers crave. Campbell Foodservice delivers just that. Together, our easy-to-prepare products and targeted marketing programs can help you strengthen your menus, save time, and build profits for your business.

Our global brand portfolio ensures value and convenience, without compromise of taste, quality or consistency. Youll find Campbell Foodservice products available in many convenient forms, including canned, dry, refrigerated and frozen.

Through our dedicated staff of seasoned foodservice and culinary professionals, Campbell Foodservice provides end-to-end support to the rapidly growing away-from-home market. Operators across all segments, including restaurants, schools, colleges & universities, health care, adult cash, convenience stores, vending, and delis are using our products and programs to build their businesses and simplify their lives.

All in all, it's a proven recipe for your success when you partner with Campbell Foodservice.

Campbell Soup Company, headquartered in Camden, NJ, is the worlds largest maker of soup, with FY 2006 sales of $7.3 billion and 24,000 employees worldwide.

Vendor Showcase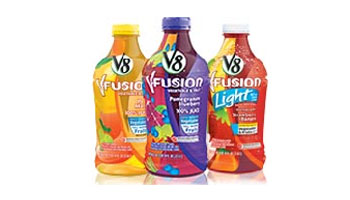 V8 V-Fusion Juice: Get the Veggie, Taste the Fruit
V8 V-Fusion is a breakthrough juice that gives you a full serving of vegetables plus a full serving of fruit* in every 8-ounce glass. The result is a nutrition-packed beverage made of 100% juice that's also delicious and refreshing!

V8 V-Fusion Light - V8 V-Fusion Light offers you 1 combined serving of vegetables and fruit** in a lower-calorie blend that delivers nutrition your body needs with a refreshing flavor you'll love!

*Each 8-ounce glass of V8 V-Fusion juice provides 1/2 coup of vegetables and 1/2 cup of fruit. daily recommendation = 2 1/2 cup of vegetables and 2 cups of fruit for a 2,000 calorie diet (My Pyramid).

**Each 8-ounce glass of V8 V-Fusion Light provides 1/4 coup of vegetables and 1/4 cup of fruit. The USDA MyPyramid recommends a daily intake of = 2 1/2 cup of vegetables and 2 cups of fruit for a 2,000 calorie diet. read more